Magazine: Features
Managing crises, one text at a time
FREE CONTENT FEATURE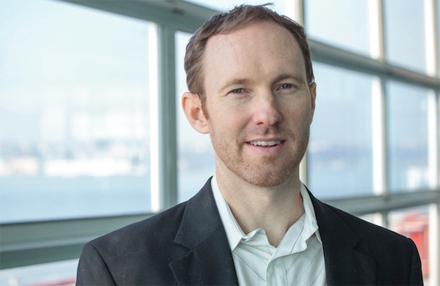 Crisis Text Line CTO Jason Bennett shares his insight on the technology behind this helpline using text to reach people in need of counseling during times of crisis.
Jason Bennett is a software engineer with a bachelor's degree in computer science from the University of New Mexico. He started his career as a software engineer at Motorola and rose to engineering manager at Google before becoming director of engineering and vice president of engineering at several other companies. Today, he is CTO of Crisis Text Line, a not-for-profit organization operating throughout the U.S. providing counseling by texting 741741. Originated from DoSomething.org, Crisis Text Line has grown from serving two area codes to all 295 in the U.S. Here, Bennett details the technology behind the platform that enables the exchange of millions of text messages, along with the many technical issues that arise due to scalability and user concern over data privacy and security.
The following interview has been condensed and edited for clarity.
XRDS: Describe your role as CTO of Crisis Text Line.
JASON BENNETT (JB): My primary goal is the execution of technology, planning and delivering on software stability, scalability, development, and maintenance. I strive to make agile product development better, lead architectural discussions, and mentor and develop the skills of my team.
Why did you choose phone text, which is an uncommon medium for intervention?
JB: Earlier, at DoSomething.org, as we received texts asking for help, we recognized text is the primary means of communication for a large segment of the population. We wanted to reach out to people whenever and wherever they were. Recognizing there was a need and a willingness to use text as a medium to reach out for help is how Crisis Text Line came into existence.
What made texting more effective compared to the alternatives?
JB: We realized we could quickly acquire a large corpus of data through this medium that had not previously existed and this data could be tremendously useful in helping people more effectively and in the prevention of mental health issues. Texting also proved more effective because people were more forthcoming and shared more details through text than through other media. In some cases, where privacy is important, text proved to be the solution, too. For example, when a victim of domestic violence is still in the home and wants to seek help, texting keeps the conversation private from the perpetrator.
Apart from SMS-based phone texting, what other texting platforms are available?
JB: We recently integrated our platform with Facebook; we launched our Kik (https://www.kik.com/) integration earlier this year. The goal is to eventually expand into any medium and to help people whenever and wherever they are.
Do you plan to integrate voice or video calls?
JB: We have considered both and include it in our plan to think more about them. However, text is our primary platform for now, given that research and observations have shown texting is much more private, and users tend to be more forthcoming.
How do you protect user data from misuse?
JB: Texter privacy is incredibly important to us and we take it very seriously. First, all sensitive data is encrypted at rest and in transit. Second, access to the data is restricted by a VPN and protected by role-based authorization and two-factor authentication, and even access to the network that can see this data is subject to secondary authentication. Finally, and most importantly, all personally identifiable information (PII) is scrubbed from the data.
What data can crisis counselors see concerning texters to be able to help them better?
JB: We know it would be helpful if the counselor had some background information about the texter, but that would violate texter privacy. Counselors know only what texters tell them. In the future, we also envision using machine learning over aggregate historical data to potentially help guide the counselor at the onset of the conversation, but it would never reveal anything specific about the texter they are currently engaged with.
What are you able to predict from the data you have?
JB: For now, we focus on identifying trends, given a particular time, place, and words. As an example, a working individual texting in at 9 PM on a Sunday night is more likely to be suicidal than someone at 6 PM. You can see a lot of our trends at http://crisistrends.org.
What other technological challenges do you face?
JB: For the most part, we face a lot of the same challenges that other tech startups face, including keeping the service up and running and dynamically scaling it. But our scaling challenges are not just in technology, as we also have to make sure we have the crisis counselor capacity to handle the volume of texters in a reasonable amount of time.
How has technology kept up with scalability and the growth of your organization?
JB: Our hardware and software are horizontally scalable, meaning we just need to add one more server to the load balancer to scale up. We have had to make some changes from when Crisis Text Line started out but nothing more than a few tweaks here and there and some query optimizations.
How does the architecture handle usage spikes at the time of a large-scale crisis?
JB: During the 2016 U.S. elections, we saw a spike. Our key performance indicator is to respond to every text in under five minutes. The health of the queue is determined by how many people are responded to in under five minutes. Most helplines handle their queue in the order of arrival. Our system uses natural language processing and machine learning to determine the severity of the immediate crisis and can dynamically increase the priority of higher risk conversations.
If you expand Crisis Text Line internationally, how will the technology scale?
JB: Our long-term goal is to help as many people as possible in every country. There are multiple ways to do this including but not limited to bespoke software and a multi-tenant solution. The challenges are that every country will have different requirements that must be adhered to and as a policy we imagine the data will need to be stored locally. In addition, the platform will need to be configured to address local content and language specificities.
What was it like to switch from for-profit to not-for-profit status?
JB: It was all about impact. Earlier in my career, I was working on problems that were not having the kind of impact I wanted nor really helping people and I was feeling that void. I have transitioned from embedded programming to adtech to e-commerce and even desktop visualization, and after all of that I realized the next step for me was not-for-profit.
---
What really matters is how much energy and time you put into learning and practicing the art of great code.
---
How are the challenges different in a not-for-profit?
JB: Technologically, we face more or less the same challenges as any tech startup. What is different are the key performance indicator and the policies. For example, instead of asking how we can monetize something or maximize revenue with a feature, we ask how many more crisis counselors can we support if we build something and how many more lives can be saved by pushing a feature out.
With your bachelor's degree in computer science, what role has formal education played in your career?
JB: A CS background can give you a great foundation and depth of knowledge you wouldn't have otherwise. Is it a requirement? No. The requirement is really a desire to solve problems and break it down into logical groups. Some training—self-taught or through a university—is needed and depends on how much time you want to spend. Some of the best developers did not necessarily go through a CS degree. A technical background definitely helps, but some of the best developers I have met were music or philosophy majors. What really matters is how much energy and time you put into learning and practicing the art of great code.
  Authors
Rahul R. Divekar is a Ph.D. student in the Department of Computer Science at Rensselaer Polytechnic Institute, Troy, NY. His research focus is on the intersection of computer and cognitive sciences, exploring areas of group dynamics and emotive analysis in conversations to enhance collective decision processes using AI. He has a master's degree in IT from Rensselaer Polytechnic Institute and a bachelor's degree in computer engineering from the University of Mumbai, India.
Nidhi Rastogi is a Ph.D. candidate in the Computer Science Department of Rensselaer Polytechnic Institute, Troy, NY, where she is leading innovation in anomaly detection in large networks using graph analytics. She holds a master's degree in computer science from the University of Cincinnati and has extensive work experience in networks at Verizon Wireless and GE Global Research. She is also committed to social good by using her skills in securing cyberspace, networks, graph analytics, machine learning, and AI.
© 2017 ACM 1528-4972/17/03 $15.00
The Digital Library is published by the Association for Computing Machinery. Copyright © 2017 ACM, Inc.
To comment you must create or log in with your ACM account.