Magazine: Features

Analyzing the Amazon Mechanical Turk marketplace
FREE CONTENT FEATURE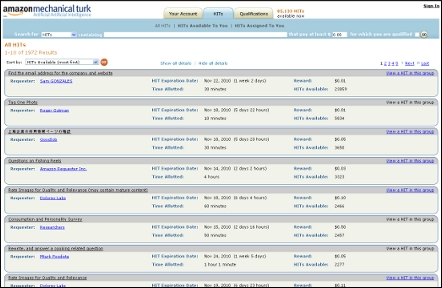 An associate professor at New York Universitys Stern School of Business uncovers answers about who are the employers in paid crowdsourcing, what tasks they post, and how much they pay.
Error 526 Ray ID: 49c413b23978471c • 2019-01-20 19:51:38 UTC
Invalid SSL certificate
You
Browser
Working
Newark
Cloudflare
Working
deliverybot.acm.org
Host
Error
What happened?
The origin web server does not have a valid SSL certificate.
What can I do?
If you're a visitor of this website:
Please try again in a few minutes.
If you're the owner of this website:
The SSL certificate presented by the server did not pass validation. This could indicate an expired SSL certificate or a certificate that does not include the requested domain name. Please contact your hosting provider to ensure that an up-to-date and valid SSL certificate issued by a Certificate Authority is configured for this domain name on the origin server. Additional troubleshooting information here.
To comment you must create or log in with your ACM account.
Pointers
Amazon Mechanical Turk

Tuker Nation

Jargon
CAPTCHA
Complete Automated Public Turing test to tell Computers and Humans Apart: A contrived acronym intentionally redolent of the word "capture," used to describe a test issued on web forms to protect against automated responses.
GWAP
Game with A Purpose: a term used to describe a computer game that layers a recreational challenge on top of a problem that demands human intelligence for efficient solution, e.g.: protein folding.
HIT
Human Intelligence Task: A task that an AMT requester is willing to pay to have accomplished by AMT providers. More generally, a task that may be best completed via crowdsourcing.
HuGS
Human-Guided Search: A research project investigating a strategy for search and optimization problems that incorporates human intuition and insight.